Love cute little aprons? Me, too!!
This is part two of my Super Cute & Easy Apron Tutorial. For Part one,
click here
. Then hop back over to see the big finish.
Okay, we've got the bottom of the apron. Now if you're super messy like me or if you're simply a full on apron lover, then follow along to add the top half.
1) I had the bottom that I'd cut off of the original skirt and luckily it worked perfectly for the top half. It was about 12" high and I cut a width of about 13". (Tip: for my first apron, I purchased two skirts and used one for the bottom half and the other for the top)
(1)
2) Next, turn under any unfinished edged 1/4", then 1/4" again to finish the side seams.
(2)
3) Along the bottom edge, turn about 1/4" to the right side and press.
(3)
4) With right sides facing down, find your centers and pin the top to the bottom at the waistband. See, you are hiding the turned up, unfinished seam.
(4)
5) Stitch the top to the bottom. I stitched two seams, one right where the top & bottom meet and then again at the bottom of the upper flap (which you ironed) to secure the unfinished edge.
(5)
6) Using the same ribbon you used for the waistband, cut another piece about 24" to loop around your neck. Pin it to the top edge and stitch into place. For a better fit, I created a pleat over each ribbon and stitched across.
(6)
7) Next I used a contrasting thread and had a serious zig-zagging moment. I like to call this my Forest Gump moment. I started zig-zagging and simply couldn't stop. Zig-zagging went on until I got tired of zig-zagging and then...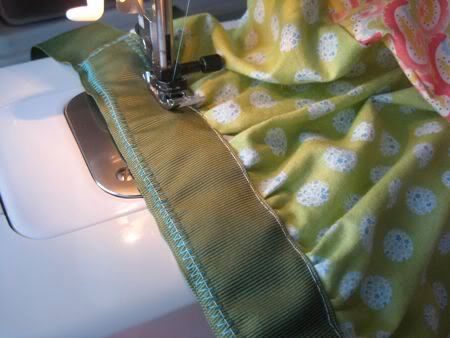 (7)
...it was complete! What do you think? Super easy and super cute.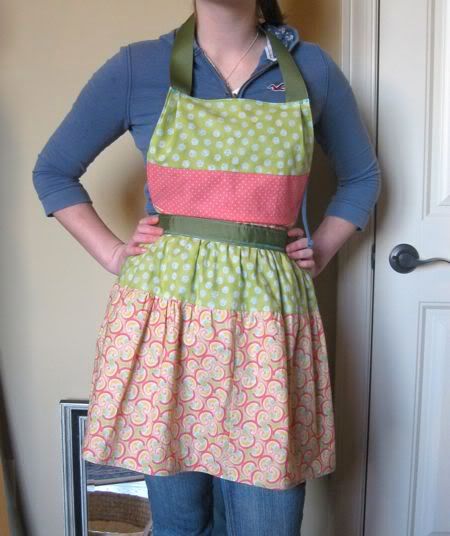 Admittedly, I am a self taught seamstress, so my terminology may not be top notch.
If you have any questions, please feel free to fire away and I'll answer as best as I can.
If you use this tutorial to make your own apron (or use it as a jumping off point to create your own, please post your pictures and come back to comment with a link. I'd love to see.)
Have a great weekend.