Hello friends. I hope you've had a terrific week. I'll be traveling next week, so the studio has been cranking away here as I try to get ahead for spring. This is my newest clutch, just finished this morning and soon to be added to
my shop
. Things are getting interestingly messy trying to work on both jewelry AND bags, but I'm having a blast. Anyway, here it is.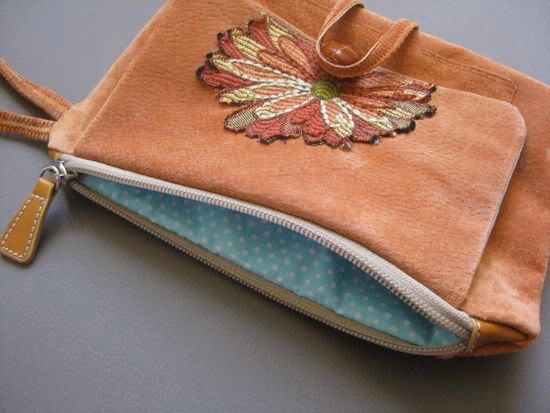 The only thing NOT recycled on this baby is the lining. The zipper was taken off of an old purse and, of course, the soft suede is recycled. I had fun appliquéing the front flower, embroidering, and unraveling a bit of the edges. I'm loving this and, as usual, my daughter asks if I HAVE to sell it. I say, "yes, tuition. tuition." Such is life, right?
I hope you're enjoying the lovely weather this weekend. Looks like we're officially headed towards spring here in the south. Big YAY.