The colorful aprons in the shops are gorgeous, but expensive.
With this tutorial, a super cute & easy apron can be whipped up in less thirty minutes.
Seriously.
I'll show you part two next for the top because while the little half aprons are adorable, I personally need to protect a larger area. :)
First, if you don't already have a skirt, hit Goodwill. I picked this one up for $3.
That's one hip skirt, isn't it? Mhmm
For an easier apron, find a skirt with a regular waistband and a zipper in the back.
This one has elastic in the waistband. So, before cutting, I reinforced on both sides of the seam.
Your next step is to cut straight up the back middle seam.
If the skirt has a zipper, just cut an inch or so away from the zipper.
If you look back at the first picture, the skirt is pretty long.
So I cut the bottom off about 2" above the pink band.
After cutting, turn the ends under about 1/4" and baste.
Turn again and make your final side seam.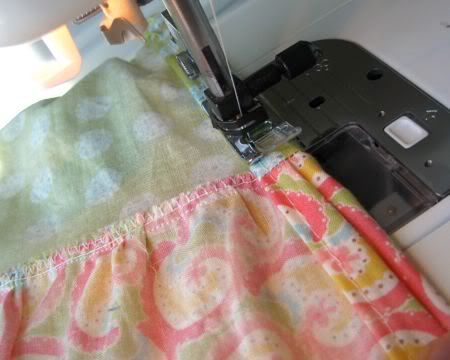 Next I cut ribbon to the width of the skirt plus about 3 feet.
(If your skirt does NOT have an elastic waistband and you want the SUPER easy route, just cut two pieces of 1.5 foot ribbon.
Simply sew each ribbon to the waistband and you are DONE!)
If you're working with one long piece of ribbon...
Mark the halfway point on both the ribbon and skirt waistband.
Match up the center pins on both the ribbon and the skirt, then pin the ribbon to the waistband. Stitch at the top and bottom and...
Now that was pretty easy, wasn't it?
Stay tuned to learn how to
add the top
just as quickly.