Several years ago Mr. Waterstone and I had the pleasure of meeting another coffee fanatic lover who actually roasted his own coffee. We were so smitten with the process that we had to try it out for ourselves. Our friend quickly convinced us that the process is quite easy and the end result makes for a wonderful cup of coffee.
In the past I've talked about ordering our fair trade coffee beans from a great online site called
Dean's Beans
. They sell fair trade products from all over the world. We ordered our
I-Roast coffee roaster
directly from this site. A one pound bag of green beans (photo #1 below) goes for approximately $4.50 and guess what? Once it's roasted, it becomes a two pound bag! In photo #2, you can see that the beans are actually green in the beginning.
Photo #3 (above) shows what the beans look like loaded and beginning the roasting process. In photo #4 (above) you can see that after only 4 minutes, the beans begin to brown. After a short 5-6 minutes, the roasting is over and they begin a three minute cooling process. Because of the smoke released from the top of the roaster, it's best to roast outside.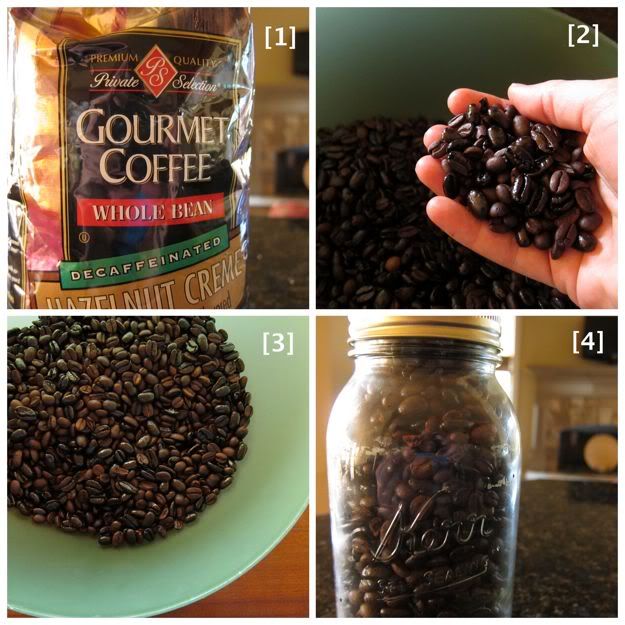 We are trying to cut back on the caffeine, so I purchase a bag of hazelnut-flavored whole beans from the grocery store (photo #1 above). In a large bowl, I combine the freshly roasted coffee beans with an equal amount of the hazelnut decaf. (photos 2 & 3 above) I store our mixed, freshly roasted coffee in mason jars.
The aroma and taste are simply amazing. I hope that you've enjoyed my little tour or our sick coffee addicted world! Even if you don't end up roasting your own green coffee beans, be sure to visit Dean's Beans. The green beans are just a small part of what they sell and remember, they're a fair trade seller.