Have you ever picked blackberries in mid 90's weather? Well, first, it's hot - duh. But more importantly you walk away with a brand. That is, unless you wear long sleeves and long pants and gloves and socks. I'm talking about thorns - large, prickly thorns. Yes, we wore our scratches proudly for the rest of the week because the reward (blackberry cobbler) was SO worth the tiny, little, prickly thorns.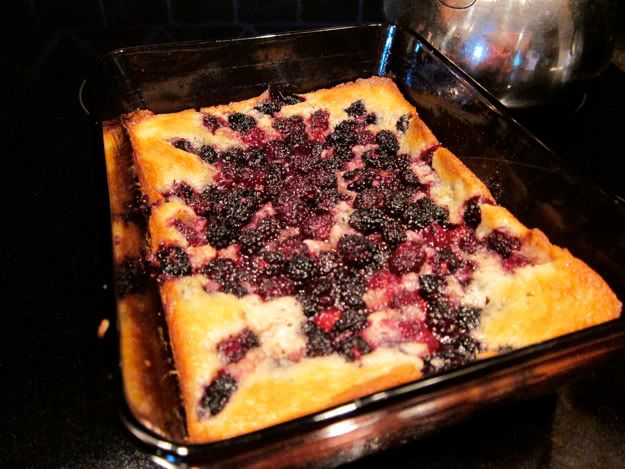 Sorry for the bad photo quality. Night. Bad lighting. Couple glasses of wine, you know...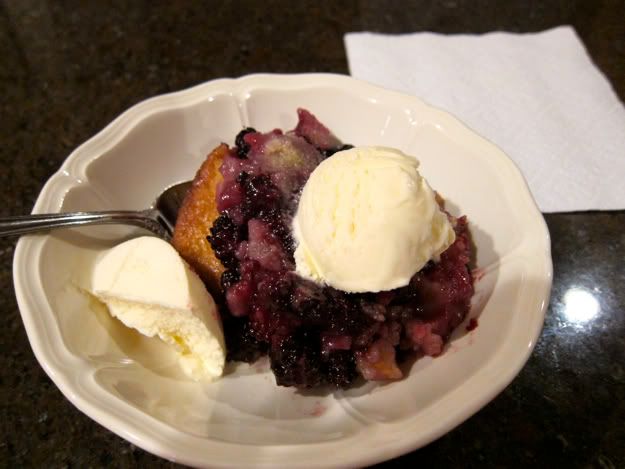 Easy Blackberry Cobbler
courtesy of my friend, Lynn
(sorry, she eyeballs things like me)
1 stick margarine
1 cup each: milk, flour, sugar
1 tsp. baking powder
Melt the margarine in a baking dish at 350 degrees
Mix the milk, flour, sugar, and baking powder
Pour this mixture over the melted butter. Do NOT stir.
Add about 1/4 cup sugar (to taste) to 3-4 cups of fruit
Pour this over the mixture. Again, do NOT stir.
Bake for about 1 hour until brown and bubbly and (I promise) yummy
Enjoy and don't forget the vanilla ice cream!!
Psst
...
click here
for my other recipes.