The heat is beginning to become a real pain in the tush, don't you think? I looked at the map today and determined that I shouldn't complain because apparently we are all suffering from the dog days of summer - even Russia. So I will withhold any rants bubbling just below the surface.

Instead, let's think cool thoughts. How about a bowl of ice cream or frozen yogurt topped with toasty, crunchy granola? How about topping it with your own homemade granola? Even better, right? I've got just the thing for you. This granola is my FAVORITE because it's not too sweet - in fact, it's a little salty - an ideal partner to anything cold and sweet.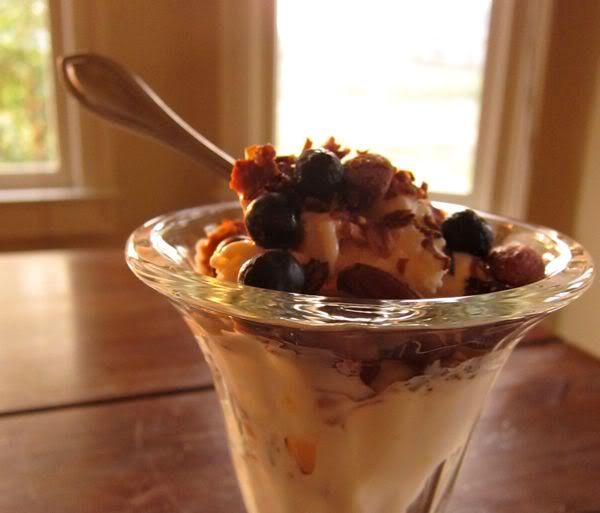 Okay so, fair warning. Anyone who reads my blog already knows that I'm an eye-baller when it comes to recipes. It's the best I can do. The good news is that when you're talking about granola, you've got wiggle room. Feel free to substitute, add, and delete as desired.


My Granola
Preheat the oven to 300 degrees F
Mix and heat in a small saucepan:
1/4 - 1/2 cup honey
1 tbs. vanilla
4 tbs. canola oil
1 cup water
1 tbs salt
cinnamon
nutmeg
about 2-3 tbs. brown sugar
In a large bowl combine:
1 cup shredded coconut
2 1/2 - 3 cups oatmeal
1 cup quinoa
2 1/2 - 3 cups whole almonds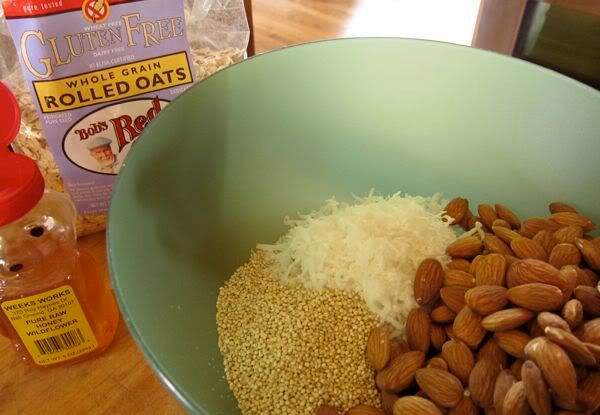 Once the liquid mixture is heated through, pour over the dry ingredients and mix thoroughly. Lightly spray two baking sheets with cooking spray and spread the mixture out onto each pan.
Bake for about 1 hour or until your desired crunchiness. I prefer mine crunchy so I went the whole hour, taking it out every 15 minutes to stir.
After removing from the oven, add back to a large bowl and mix in about 1 1/2 - 2 c. dried cranberries. This will be more of a dried granola rather than clumpy.
Now serve up the cold ice cream, top and enjoy!