Hello friends. I don't know about you but Monday holidays throw the rest of the week into a twilight zone tail spin. It's Thursday night and my brain has been scrambled for three days. It could be Friday for all I know - or Tuesday. How about you?

The Feature!
I'm giving a shout out for myself today. This week, I was included in an Etsy Finds feature entitled
Soulmates
. It matches beautiful vintage boots with handbags. To put it mildly, the adrenaline pumped at break-neck speed for a full 24 hours. Breathing has resumed.
Girl's Weekend!
I can't wait. I can't wait. I can't wait. I'm headed out with the sunrise on Friday for a weekend with my bestest bud from Roanoke. We will do a little shopping, enjoy good food and wine, and spend a little quality girl time. Did I say I couldn't wait? Can Not Wait. Oh yes, as a result, I won't be anywhere near my studio until late Sunday. I'll be checking emails and if something from my shop is purchased, it will go out bright and early (yawn) Monday.
New Stuff!
My online journal from this week in the studio...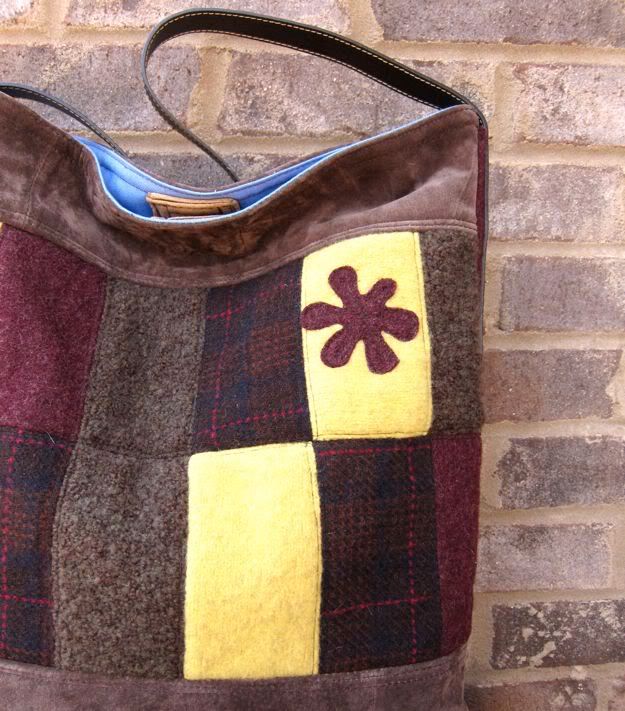 Oh great glory days, I love this bag. It's made from recycled wool coats & sweaters & suede.
It reeks of fall and it's in the
shop
. Is reek a good word? That sounds like it smells and it definitely doesn't smell. :) Note to self - use a thesaurus.
Double glory days. I think, no I KNOW I love this one, too. Of course.
It would suck if I hated it, right?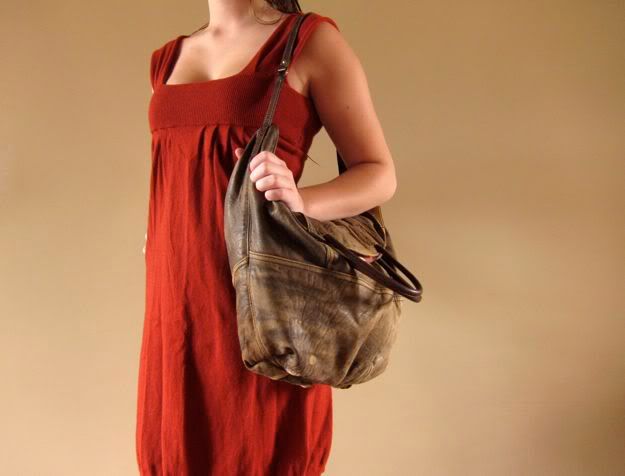 It was created using an uber (there's that word again) distressed leather bomber jacket - soft beyond words. As you can see, it can be carried two different ways.
I'm thinking it will be listed either Sunday night or Monday.
I also did a boatload of recycled cell phone cases this week.
Some weeks I look back and would swear that it looks as though I did nothing but run around all week with my tail between my legs, accomplishing nothing. For some reason, I've been working on bags lately that have been more labor intensive - yeah, that's it - labor intensive.

I'm thinking that since I talked about myself today, I will make a special point of talking (nicely) about other artists next week. Stay tuned!


Okay, so...
Visit my bag at
Etsy Finds
.
Wish me safe travels and I'll do the same for you.
Tell me what you did this week. Or do you have special plans for the weekend?
Have a great weekend and I'll see you again on Monday.