Yesterday my son, Mr. Waterstone Jr., walked into my studio and offered to give me a large metal shelf. Maybe it was because he was thinking the same thing I've been thinking. Hoarders. I could be on an episode of Hoarders. Really.
I jumped. He jumped. I cheered. He ran. He came back. He put my new shelf together. Once up it was as if something exploded inside my brain. Suddenly I was thinking thoughts I rarely think, thoughts of...
ORGANIZATION
.
More like organized madness - but organized and organized is
GOOD
.
Once complete, I was one proud mama. Here, let me show you around.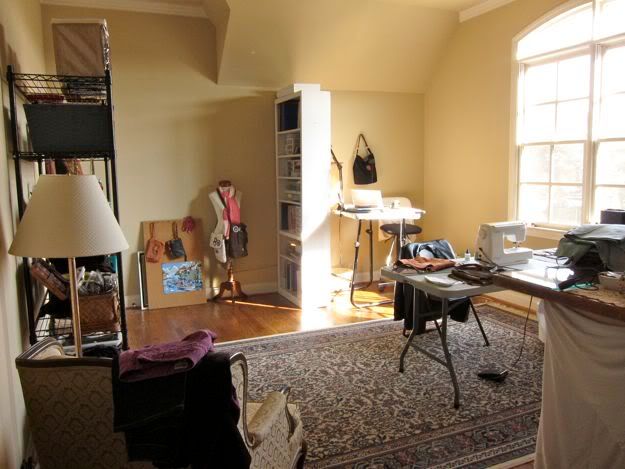 This is the view from the door. My new shelf is to the extreme left. That's my old artist's table/desk in the back corner, behind the tall bookcase. Yes, I have a cubby. Think I'll find a pretty, colorful picture to hang behind my desk chair. And curtains. Yes, curtains.
Can you tell I'm excited? But wait, there's more...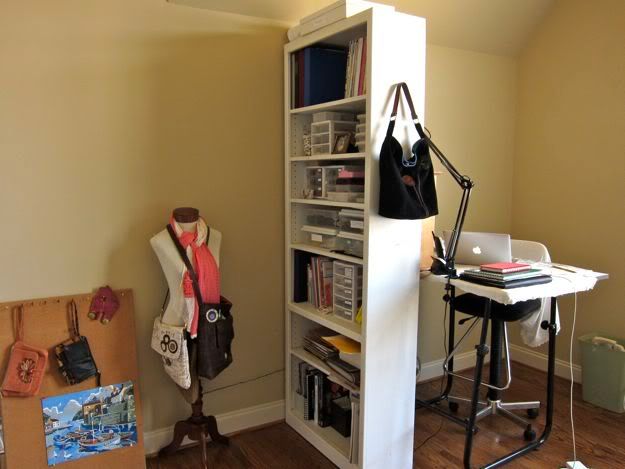 The other side of the bookshelf holds all of my books, magazines, and smaller items. I got the display form at a thrift shop for, I think, $35.00.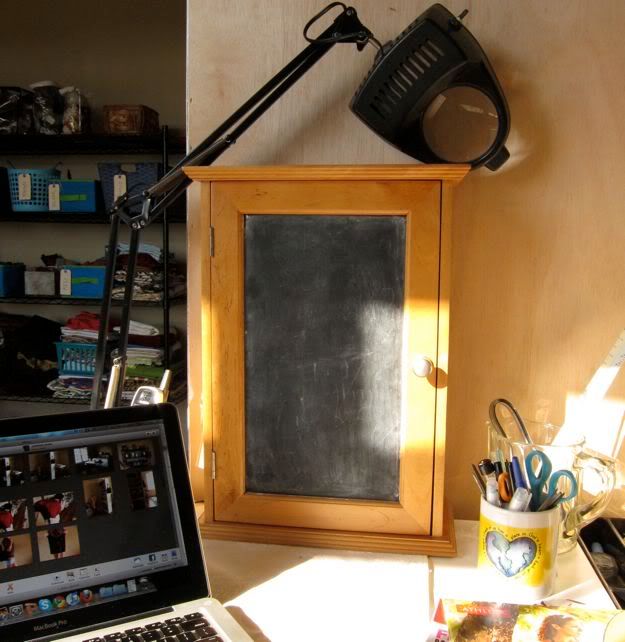 This is the view from my desk. I live here when I'm not at the sewing table.
I have an old cabinet with a chalkboard - perfect for a daily to-do list. Gotta get chalk.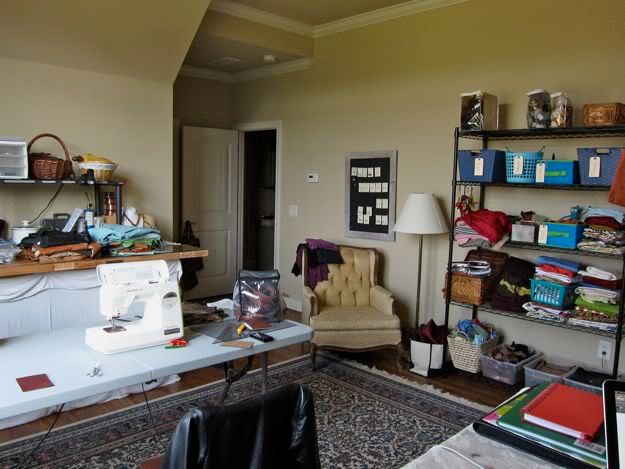 Looking out, you can see my new shelf, which is great for holding my fabric, leather, and sewing supplies. A folding table is in the middle of the room and holds the sewing machine.
See the yellow armchair? I got it several years ago in a tee shirt for chair trade.
I love that chair.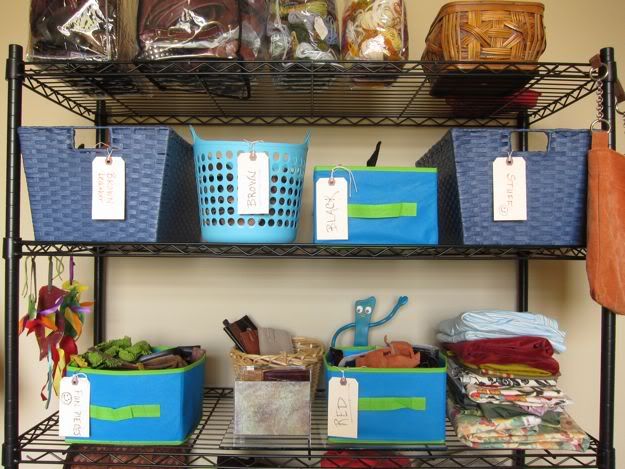 Back to the shelf. I got the blue fabric bins at the dollar store! Hang tags are on the front of each bin with item description. The top shelf holds zippered plastic bags I've collected over the years.
I have used them over and over again and now they hold leather straps and snaps.
Notice Gumby waving from the back? I love Gumby, too.
Another view of my sewing table and in the back I have my heavy duty jewelry table. Oddly enough, I use the drill just as much now for leather as I did before with metal! The bulletin boards have thumb tacks and clips to hold stones and beads.
That's it! I'm so happy. And organized and I so hope that you enjoyed your tour.
Got any
storage suggestions of your own
to pass on?
One more thing...
If you haven't answered my
survey question
at the top of the right column, please do.
Okay, what's your best storage/organization tip?