It seems that we have many lovers of Pride and Prejudice, Braveheart, and even Rosemary's Baby as well as hoarders of notepads for massive amounts of list making.
(I count myself as one of you)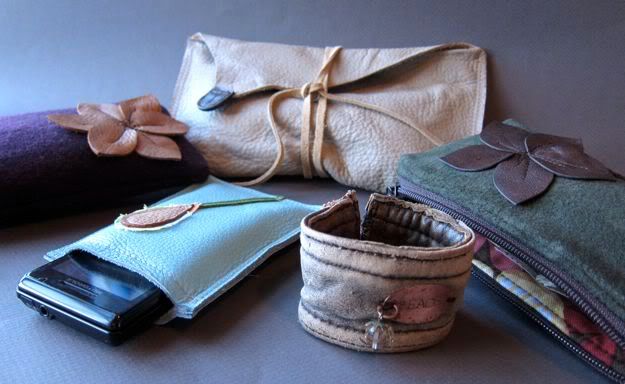 The winner of yesterdays reclaimed leather cell phone/ipod case is Patricia from
My Life Under the Bus
.
Congratulations Patricia!
And now...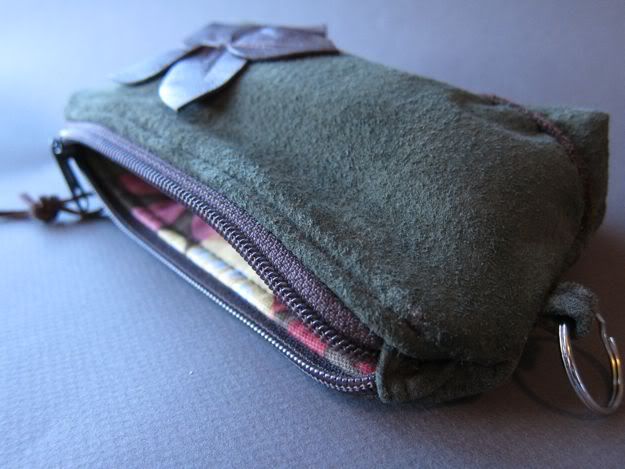 Wednesday's
Waterstone anniversary giveaway
is for this gorgeous, recycled green suede pouch. It has the sweetest recycled brown leather flower on the front, a key ring, and inside it has enough room for your girlie stuff, cash, and cell. And speaking of the inside, it's lined with adorable modern floral cotton. What's not to love? And, of course, it could be yours for the low low price of...
clicking on that little "share/save" button at the very bottom of this post.
Sharing the love - it's what we do.
and
because that stupid freaking broken pinkie toe is wreaking havoc on my life and any possibility of wearing pretty shoes...
answer this burning question:
What is your favorite brand of shoes? Favorite style?
Are you more of a "grin and bear the pain"
or "give me comfort any day of the week" kind of girl?

Today's giveaway will run through 9:30 p.m. EST Thursday.
I will announce the winner Friday morning. Many thanks to
Random.org
And then we'll begin our final and BIGGEST day of the
Waterstone Anniversary Swag Giveaway
!
Waterstone Discount for Thursday
is:
20% off all handbags & totes!
If you purchase something in this category, don't pay immediately.
DO leave "anniversary discount" in your message and if your paypal account is different from your contact email, leave that information as well. I will send a new invoice.