A few weeks ago I had the privilege of working with
Marcie of La Bella Joya
on a collaboration for a client. Well, in all honesty, she did most of the work. I just provided a recycled wool template for her to spin her magic upon. GORGEOUS! Wouldn't you agree? When she returned the basic cutout with her beadwork I was amazed at the intricate detailing.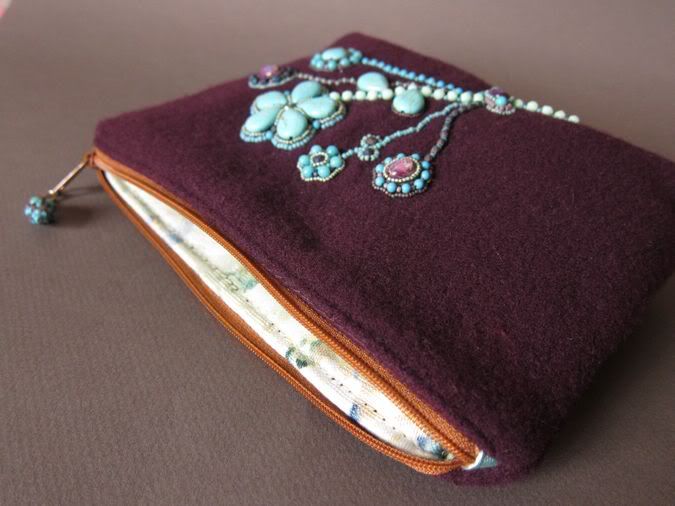 It was a little difficult sending the clutch back to her. I would have given it a good home.
*****
It's been a fairly good week for Studio Waterstone.
I gained a few more views from the
Etsy Fashion
email from November 16th.
and
One of my recycled cell phone cases made it into
Viva La Moda
, page 26.
Can't complain. Can't complain at all...
although if given a chance and being the pre-menopausal woman that I am,
I'm sure I could come up with something on a whim.
*****
Contemplating the continuation of a few weekly features.
As an easy, anonymous solution, I've started one of everyone's all time faves...
A NEW POLL!
(to your right and directly up)
Now notice, I want to know your
LEAST
favorite.
LEAST
favorite.
In order to protect my delicate nervous system, you can only vote for one item.
and
Did I say that it's ANONYMOUS? (Why yes, Lori, I think you did.)
So, that means that no matter how hard I try to find out who voted or what you voted for,
I can't.
Hop over and give me your opinion.
Commenting works, too. I'll take both - or either.