I was recently thrilled to win a glorious grouping of beautiful beaded pulls from
La Bella Joya
. Aren't they pretty? I can't wait to play with these babies and add them to a few Studio Waterstone Clutches. Thank you so much, Marcie.
********

So, so ready for Thanksgiving week! We've got company coming in and I'm looking forward to time off with friends and family. Mr. Waterstone creates the majority of our meal but Wes has volunteered to make the pumpkin pie and, believe it or not, a delicious looking brussels sprouts recipe he's found. Jes refuses to eat sweet potato casserole (which we make anyway - hey, it's a dessert disguised as a side dish!) so she's making mashed potatoes. Me? I'll be cooking in the studio right up until Thursday, then I'll eat. It's the least I can do.
And until that time, the blogging will go on!
********
Tuesday
:
Brand New Tutorial
and
a totally unrelated
Thanksgiving family recipe
Wednesday:
Special Thanksgiving Announcement
(hint: ready for Black Friday?)
and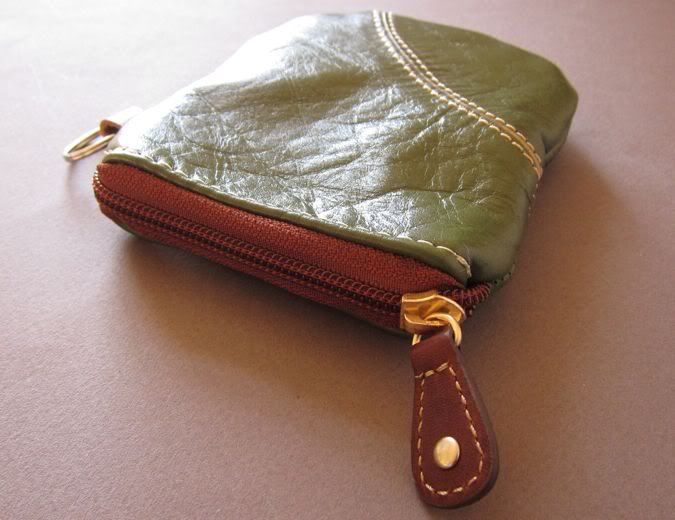 A GIVEAWAY!
Woo Hoo! Time to say, "Happy Thanksgiving to me!"
This week I'll be giving away this sweet little recycled green leather pouch/key chain thingy.
(I really don't know what these little things are officially called, but I sure love them.)
********
What must you do to enter?
Tell me. What's your favorite holiday dish? Briefly describe, please.
(Yes, I changed the question. The original question was:
Best holiday story please. If you worked on an answer to the first question, feel free to submit it. It will still count and I will be immensely impressed. :)
The best sounding dish wins. A team of specialized food reviewers will pour over your comments between now and next Sunday night. On Monday, a winner will be announced.
Good luck and let the storytelling begin!