Looking for something light in a season full of heavy...heavy.......heavy food? Try this out. It's easy and super quick. Just add a salad (or not - the snow peas pack a nice punch of veggie green!), your favorite glass of wine and you're set to go.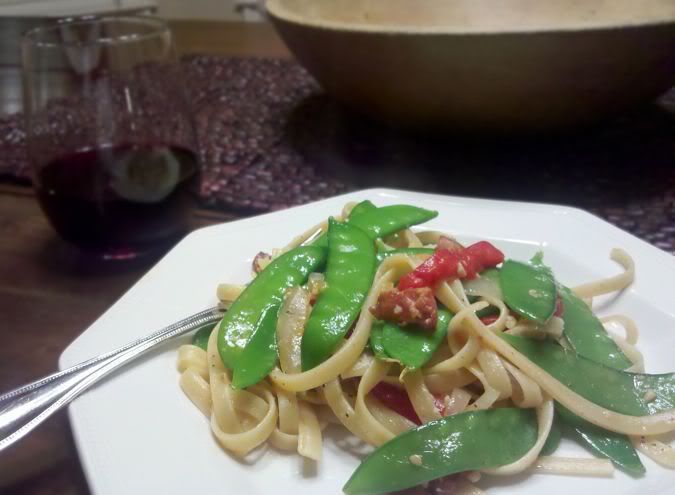 Fettuccine with Bacon and Roasted Red Peppers
What you'll need:
1 (7 oz.) bottle of roasted red bell peppers, drained
2-3 bacon slices, chopped - raw (it calls for 2. I like 3)
1 cup sliced onion
3 garlic cloves, minced
1 cup snow peas (or baby peas)
3/4 cup fat-free, less-sodium chicken broth (we use gluten free)
4 cups hot cooked fettuccine (about 8 oz. uncooked pasta)
2 tbs. grated fresh parmesan cheese
1/2 tsp. salt
1/4 tsp. pepper
red pepper flakes
What you'll do:
1. Cut the roasted red peppers into 1/4" wide strips.
2. Cook the bacon in a large dutch oven over medium-high heat until crisp (about 2 minutes). Remove and set aside for later.
Add the onion and garlic, saute 1 minute.
Add the bell peppers, peas, and broth; simmer 1 minute.
Stir in the pasta, reserved bacon, cheese, salt, pepper, and red pepper flakes to taste.
Enjoy!