Hello and a very happy Monday to you all. I am thinking this morning about the people who, for various reasons, inspire me. I hope you will visit these lovely folks and spread a little inspirational love.


First, I bring you Jennifer Juniper from
Hope Studios
. Jennifer is both a
wonderful calligraphy artist
AND the author of a colorful, lively blog which features, among other things, Tutorial Tuesday, the Sunday Funny, and Feedback Friday. I try to participate in the tutorial link up each week and her Sunday Funny never fails to put a smile on my face. Oh, if I only lived right next to Jennifer - the tales we would live to tell! Do hop over and give this fabulous girl a shout.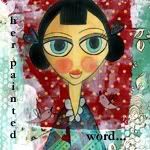 Have you ever visited Danielle from
Her Painted Word
? One look cries color, cheer, and inspiration. Danielle is an artist who paints
whimsical works of art
. Her words are so much better than mine. So without further ado, I give you Danielle:
Tucked away in Northern Canada, lives a woman who dreams of wearing a chartreuse cape with red polka dots where she spends many days and nights creating inside her petit Studio. With six months of snow covering the ground, she spends many days as a recluse allowing her imagination to run wild. When Spring finally arrives, she flies around in her cape, enjoying the deep greens and blue hues that cover the nearby forests and abundance of lakes. Welcome to her world. Get a cup of coffee and stay a while...xo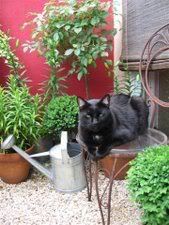 Now, if you are looking for a true laugh visit
Estorbo at

The Libe ob Don Estorbo de la Bodega Dominicana
. I have, at times, been brought to tears over the life and times of this cat. In his own words, I bring you Estorbo:
I yam a beeg, blag, Dominican cad. I was born een a bodega arn the Lower Eas' Side ob Manhattan.

The libe ob a cad. Dayeen, dayoud.
Intrigued? Take the time to visit. You cannot read this blog without saying the words outloud. I challenge you. Visit Estorbo. Really.
*****


I hope that you've been sufficiently inspired to laugh and move into the upcoming week.
Enjoy these links, have a great day, and I'll see you tomorrow.