If you asked me what I did this week, I may look like a deer caught in the headlights. We're continuing our "Where are we going to live next year? and What are we going to do next year? and Where will our children go to school next year?" adventure. That's been a little mind boggling. It's stressful but I know that it will work out.
Thinking back, however, I can scare up a couple of things. First and happily, I did ALL of my Christmas shopping on Tuesday. Yay! And we learned how to
play with photo backgrounds
on Tuesday.
I made this for a sweet friend who just got a new camera and somewhere in the midst of the sewing debacle I swore off ever making another camera case. Those little suckers are THICK! Here's the initial sketch...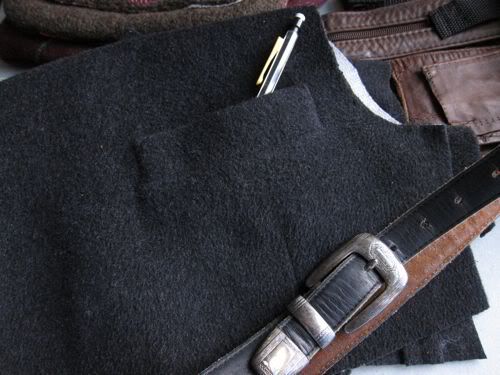 The Materials - Dark Gray Recycled Cashmere & a Recycled Leather Belt



Finished. I really like the weathered belt.


This thing has enough velcro to...well, it's got a lot of velcro.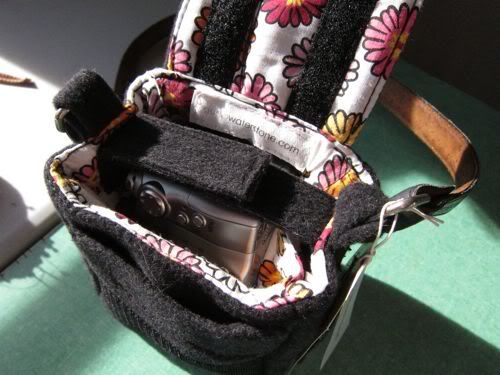 *****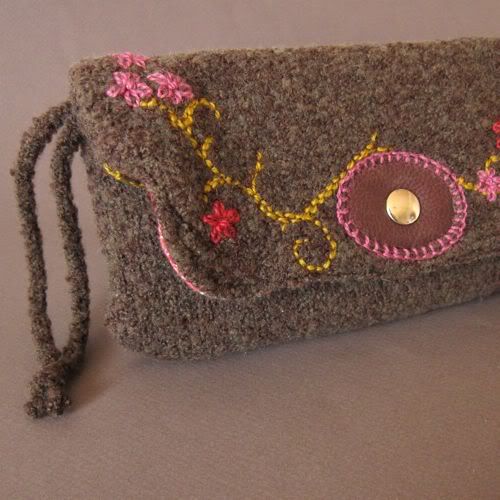 [ embroidered recycled sweater clutch ]



[ recycled wool clutch ]

*****

and FINALLY...

I'm excited to begin a new weekly series on December 30th called
Featuring Studio Spaces.
FSS will include not only pictures of the artist's space but discussions about how the space works for them, some of their favorite storage tricks, various interesting/unusual storage work spaces, and what having their own space means to them creatively.
Featuring Studio Spaces
will even be open to artists who have a
space problem
and are looking for suggestions from readers. More importantly, these spaces don't have to be magazine worthy! We're talking
real creative spaces for real people
.
Can you tell that I'm excited? Have you considered
submitting your workspace?
Currently we're
accepting submissions
for mid to late January. If you're intrigued...
click that little link in the sidebar that says "contact lori" and let's talk!
*****
That's my week. How was yours?