Mr. Waterstone recently played in a golf tournament in which the sponsor had a chef (with a different dish) at every hole! He reported it was, hands down, the best he'd ever eaten on the golf course. Can you imagine? Anyway, this was his favorite. He went to the sponsor, found the chef, and got the recipe. We made it two nights ago and I must say, it's pretty dang good.

Note: This is a bison chili recipe and because I had 100% grade "A" American hamburger, that's what we used. Also, with the measurements for the hot spices, this chili packs a little heat. So you may want to go a little lighter and adjust as you prefer.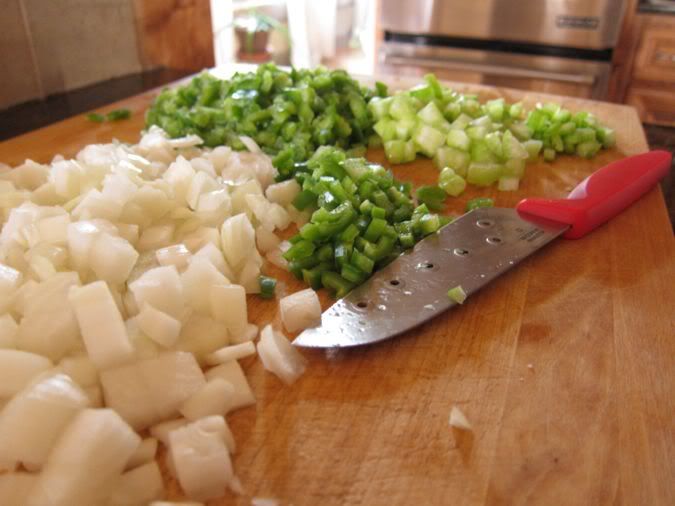 This is what you'll need:
3 cups diced onions
1/2 can chipotle peppers in adobo sauce chopped
2 cups diced bell peppers
½ cup chopped celery
3 fresh jalapenos seeded and chopped
3 lbs ground bison meat (I used hamburger)
3 tbs. light chili powder
2 tbs cumin
1 tbs cayenne pepper
2 cans diced tomatoes
1 can crushed tomatoes
2 cans tomato puree
4 cans white cannellini beans drained
salt and black pepper
Sauté onions, peppers, celery, and chipotle until translucent. Add the meat and sauté together. Add the chili power, cumin, and cayenne. Stir in the diced tomatoes, crushed, tomato puree, and the beans. Let simmer for about 1 hour stirring occasionally.
Season with salt and pepper to taste.