It's time for
Featuring Studio Spaces
! Each week we will feature an artist and his or her
creative space
. We'll gather lots of juicy tidbits ranging from
inspiration
to
design and functionality
. From time to time, we'll even discuss
what's not working
(a great time for reader suggestions). Interested in showing
your studio space
? I"ll have more information at the end of this week's interview.
*****

Before Christmas, I was fortunate to have one of my photos included in
Handmadeology's Reaction series
. That's where I first noticed
Jayne Norvelle
and her gorgeous jewelry. Not only was her jewelry unique and clearly artisan quality, it was also professionally showcased. I hope you enjoy this peek into Jayne's studio. After the interview, be sure to head over to her
shop
as well as her
main website
.
FSS:
Tell a little about the work you do in the studio.
Jayne:
I am a self-taught silversmith. I live out in the country and a long way from any major city, we have no resources available to learn this art form. I used books, magazines, and You Tube videos and a lot of trial and error in learning this craft. I live near the beach and use beach stones, agates, and jaspers in many of my pieces. Because my work involves flame, grinding dust, and hammering, etc. I really needed a separate area for my studio space.
FSS:
Did you have a specific inspiration when organizing your space?
Jayne:
I really didn't, it was an available room in my house, and I needed a functional space.
FSS:
Name one (or more) things that work especially well for you?
Jayne:
My husband made my bench, my number one, most important piece in my studio. He gave me lots of drawers and space between the two counter levels to store my most used tools. My bench has lots of little extras to hold mandrels and bench pins, used for forming, hammering and sawing. I love my bench! My other favorite functional item is the red storage cabinet to the left of my bench. I got this at Ikea, it rolls and the drawers are just the right size to store my stones and metals.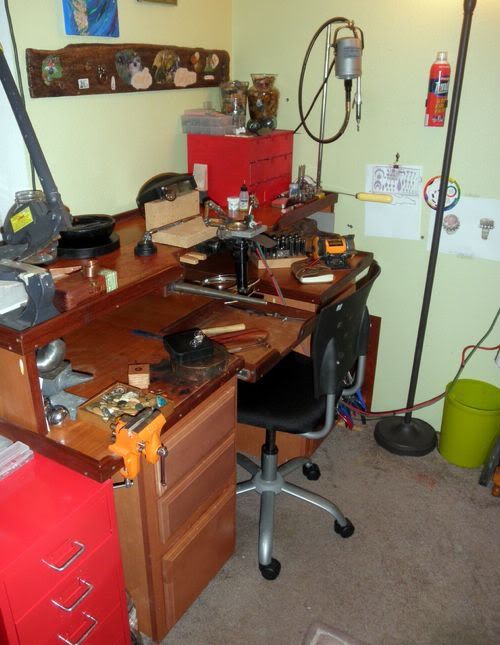 FSS:
What's your biggest issue with storage/organization/design?
Jayne:
I have a good amount of storage, my biggest issue is not putting things back where they belong after each use. I spend a lot of time driving myself crazy looking for a pair of pliers that are lying right in front of me. I have gotten better about this but some days my bench looks like a terrible catastrophic event took place. I hope to one day pull up the carpet in this room and lay down wood. The carpet is not functional at all, and has suffered many burns. The up side to carpet is, when a tiny piece of silver pings out of your hand it usually stays where it lands.
FSS:
Level of importance: design aesthetic or functionality?
Jayne:
Functionality was definitely the priority for my studio, but it is always nice to be surrounded with things you love. My walls are painted a bright celadon, and artwork from family and friends are on my walls. Some of my special beach finds and stones are displayed, here and there. I needed to have a window for ventilation, and it just happens to look out onto my favorite tree in our backyard, which was a very nice extra. So while my studio was created for functionality, I still am able to enjoy an artfully aesthetic design.
FSS:
Is there something that you're constantly having to work on overcoming and what have you done/do you do to rectify this situation?
Jayne:
Definitely the mess! The work I do is just naturally messy, so even if I keep everything really tidy there is still some mess. If I keep my tools organized that helps a lot. One solution I've found that was very simple to organize my many pliers, was a kitchen towel bar. I like having them out and in easy reach, when I need one I don't want to hunt through a drawer.
FSS:
Do you use/prefer/need artificial light or natural light?
Jayne:
I need both natural and artificial. Sometimes when I am soldering it helps to see the color the metal is turning so I only need a bit of natural light. If I am working on polishing or finishing touches I like all the light I can get.
FSS:
Show me interesting tidbits about your studio.
Jayne:
I have to have ventilation so I have a window fan facing out. The window is open and the fan on any time I am soldering, grinding or polishing. Another important item is my "catch drawer" in the center of my bench. It is right over my lap and slides in and out. When soldering this is always out and has prevented some serious burns from hot metal landing on myself or the carpeting. Before I had this, I burned many pairs of jeans, my skin and the carpeting below.
FSS:
How has your creative space evolved over time?
Jayne:
I first used an old wood drop leaf table, in the corner of our office space. My husband builds Offshore Boats and would have customers in there at times, so I needed to keep things very contained. I also was closer to our family room so hammering and grinding could be very loud for anyone else in the house. The biggest issue was sitting at that table was a back and elbow killer. Since I moved into the far end of our house and have a bench built to fit me, I can work for hours, make all the mess and noise I want, when I want. When I am done for the day, I can close the door and it will all be waiting for me in there again tomorrow.
FSS:
How has having your own creative space affected your work?
Jayne:
Having my own space has definitely given me the freedom to work at anytime I want, and be able to close myself away without distractions. I spend far more time actually creating in my studio now, as in any skill the more you spend time doing it the better you get. I also have so much more space for cool tools now, the more tools the more skills I can learn, and the more creative I can be. The more I create, the more I can put in my Etsy shop and sell, so I can go back to creating again. After all I think the true reason most of us create is for the act of creating, the selling just enables us to create more!
*****
I love Jayne's last statement! Isn't it true that the reason most of us create is for the ACT of creating? The artist's drive to create is indeed a strong one. Thanks so much to Jayne for telling us about her artistic process and showing us her space. Don't forget to visit her
website
.
*****
Interested in having your creative space featured?
All you need to do is click that little "
contact
" button in the top right column and I'll add you to the list!