I have been so looking forward to this new series,
Featuring Studio Spaces
. Each week we will feature an artist/crafter and his or her
creative space
. We'll gather lots of juicy tidbits ranging from
inspiration
to
design and functionality
. From time to time, we'll even discuss
what's not working
(a great time for reader suggestions).
*****

As most of you know,
Lorelei Eurto
is an extremely talented (and frequently published) jewelry artist whose whimsical designs leave her fans in constant amazement. After reading our interview, be sure to head over to Lorelei's
blog
as well as
Lorelei Eurto Jewelry
on both
Etsy
and
Big Cartel
to check out a few of her goodies. You won't regret. Now, without further ado, let's begin our talk with Lorelei.
FSS:
Tell us a little about the work you do in the studio.
Lorelei:
I mostly use my studio to create jewelry, and now that it's located in my office, I also use it online shop, pay bills, and keep up with the business side of the business.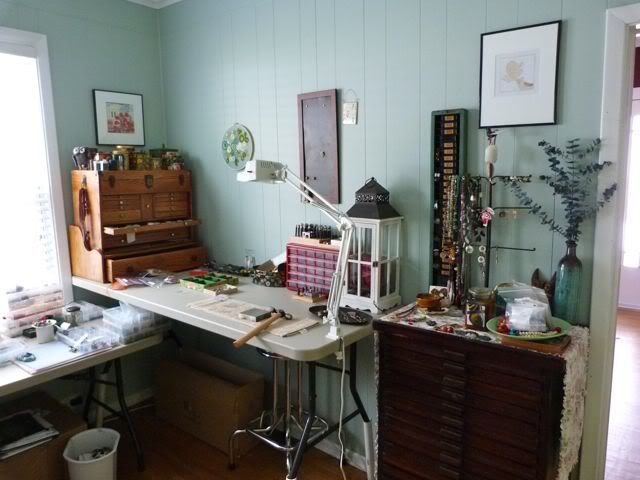 FSS:
Did you have a specific inspiration when organizing your space?
Lorelei:
I always admire people's creative organization skills when I see pictures on blogs. I love color, interesting knick knacks to look at, walls filled with inspiration- but I'm also a fan of organization, and simplicity. The two rarely go hand in hand.
FSS:
Name one (or more) things that work especially well for you?
Lorelei:
I like keeping my tools and sometimes bead projects in little ceramic vessels, dishes, and bowls. They add to the handcrafted look in my studio, are pretty on their own and also act as a functional piece.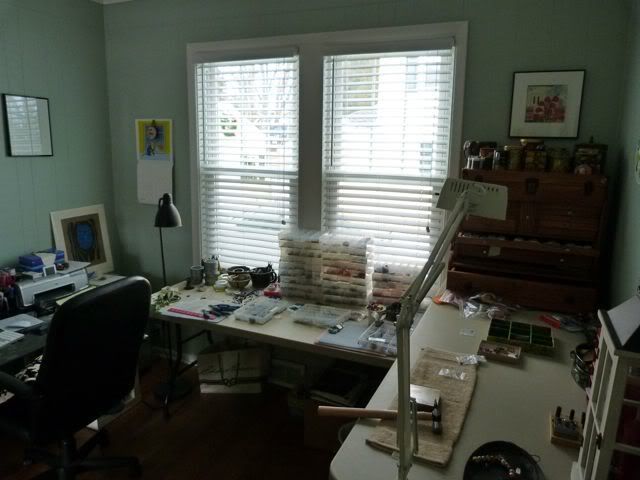 FSS:
What's your biggest issue with storage/organization/design?
Lorelei:
BEAD STORAGE! This has been an ongoing battle for me. I used to store all beads in plastic bins that I cut the covers off of, and they were spread out on several tables around the room. Then the bins moved to small stacks on a bookshelf. And now, there is not room for that bookshelf so the bins are stacked on the work table. This makes it hard to find what I need. I do have half of my beads in a large 27 drawer vintage printers cabinet, but it's just about full. Another one will have to be acquired in the future! Some day I hope to find the best solution.
FSS:
Level of importance: design aesthetic or functionality?
Lorelei:
Functionality is definitely the most important. If I can't find what I need, or have a good understanding of where everything is kept, my mind is completely blank and I get nothing done. I try to keep my studio as clean as I can.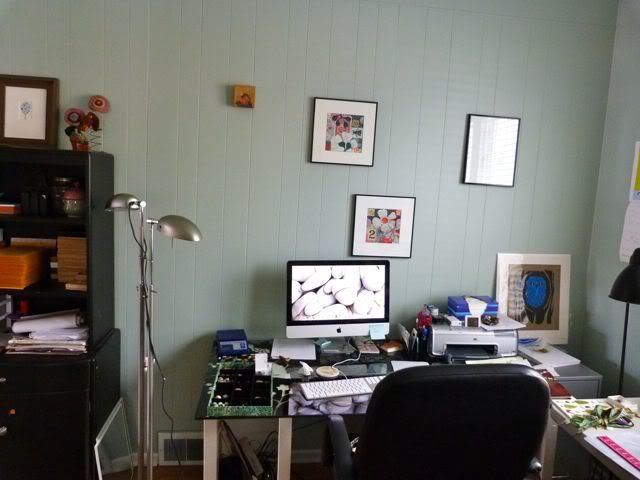 FSS:
Is there something that you're constantly having to work on overcoming and what have you done/do you do to rectify this situation?
Lorelei:
As mentioned above, I am constantly trying to make the storage issue better, easier, more organized. I tried organizing by color but that doesn't ever last long. I am looking into get one of those larger plastic storage containers that has small drawers. Or possibly something larger, free standing, like one in particular that a scrapbooking company makes, complete with little drawer inserts for beads.
FSS:
Do you use/prefer/need artificial light or natural light?
Lorelei:
I love natural lighting the best because occasionally I will have made jewelry in the evening in artificial lighting, and looked at it the next day, in natural light and been appalled at the color clashing.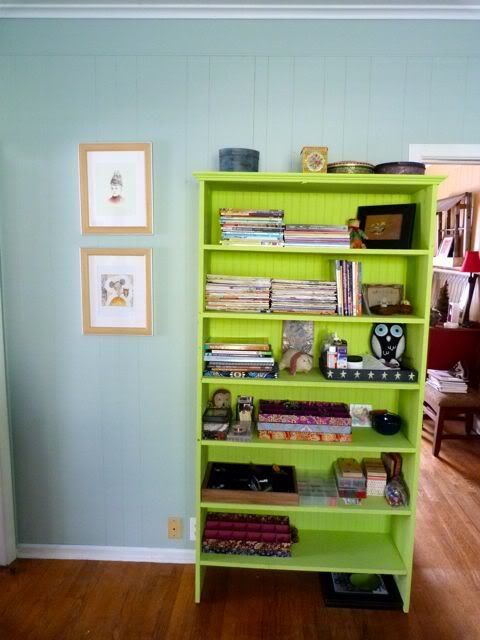 FSS:
Show us interesting tidbits about your studio. (example: ventilation solutions, chemical work, flames!)
Lorelei:
I love antiques, and two of my favorite things about my studio is the vintage printers cabinet, and a large oak tool box that belonged to my husband's father. I would eventually like to get rid of the plastic folding tables and replace them with large wooden tables, preferably the older and more beat up, the better! It will give me the perfect excuse for antique shopping this Spring!
FSS:
How has your creative space evolved over time?
Lorelei:
It has definitely gotten bigger and bigger! I started out in the smallest spare room in my three bedroom bungalow, then moved into the larger spare room. The studio was housed here for a good year and a half, in which time, it allowed me to collect more and more things. I recently moved the studio downstairs to the office, a room about 3/4 of the size of the previous room, and have been forced to simplify things yet again. This is all in keeping with the fact that I have major creative ADD and cannot seem to stay still in one space for very long.
FSS:
How has having your own creative space affected your work?
Lorelei:
It has definitely improved my sense of organization, but as an artist- I can pretty much bead anywhere you give me a table and chair.
Thanks Lorelei!
*****
Interested in
having your creative space featured
? Just click on that little contact button in the sidebar and we'll get your name added to the schedule! Large, small, designer-worthy or simple and functional, we'd love to hear about your space, your inspiration, and yes even your problems!