I'm working on new
Studio Waterstone bags
and hoping to have things to show you by the end of the week. One, shown above, is a weathered leather fold over clutch with little leather flowers - so cute.
The other is a weather brown leather tote, not too big, not too small, with a red lining.
No pictures of that yet.
I'm slowly climbing back in the saddle, planting my butt and my brain into a new creative gear.
(that was an odd sentence but accurately reported!)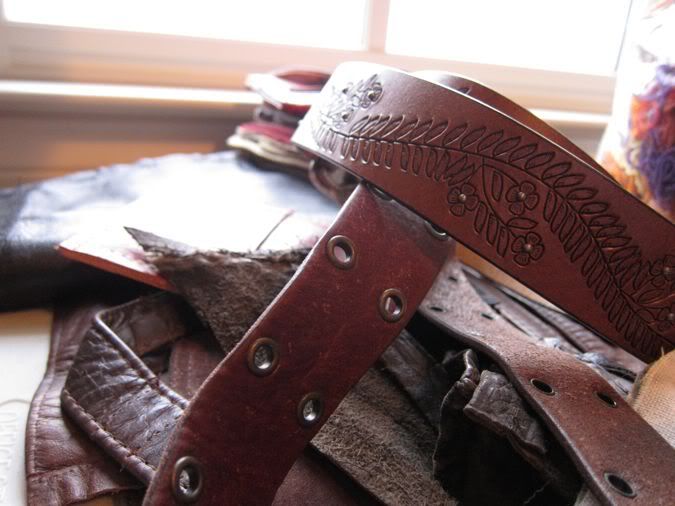 Studio whatttt? Many of us accumulate things that for whatever reason we don't want to simply donate and we don't want to Ebay or garage sale. I happened upon a solution the other day as I visited one of my favorite handbag designers,
Made by Hank
. She created another blog named
Hank's Stoop Sale
. It's a virtual, online stoop/garage sale! How cool is that?
Of course, I excitedly jumped on board with the idea and created
Studio Stoop Sale
. It's not totally prettied up and running yet, but it's a spot where I'm planning to sell a few gently used items including (but not limited to)
great shoes
and
cute tops
,
dresses
, etc., various
artist's and jeweler supplies
, AND my tried and true, already tested out and gently used...
Studio Waterstone pieces.
Think of it as a virtual sample sale.
So anyway, more on that.
For now,
hop over to check that out and hopefully bookmark
.
(I'm the only one following myself and, well, it's kinda lonely.)
*****
AND DON'T FORGET!!
Featuring Studio Spaces
returns tomorrow with my interview with
metal smith Jayne Norvelle.
We'll also get a
peek into her studio
.
Until then, have a fabulous day and remember...
don't sweat the small stuff.