It's time for
Featuring Studio Spaces
! Each week we will feature an artist and his or her
creative space
. We'll gather lots of juicy tidbits ranging from
inspiration
to
design and functionality.
This week we're talking with
jewelry artist
,
Kristi Bowman
of
Kristi Bowman Designs
. Like so many artists, Kristi's design space evolved and expanded over time and I think you'll really love hearing her story and seeing her studio space.

Kristi, tell us a little about the work you do in your studio.
I started out mainly working with
PMC (Precious Metal Clay)
, starting with silver and adding bronze and copper in to the mix within the first year. I love working with the clay, even after several years I'm still fascinated at the process of firing it and having it turn in to pure silver (bronze or copper)! In the beginning I started this shop on
Etsy
and when I added so much bead work to my routine I created a this
Artfire
shop.
In trying to add color to my metal work I began adding beads and stones to my work. Now I'm totally addicted to beads as well. I opened a second shop just to sell my beaded work. I'm also experimenting with
enameling
and using
colored patinas
as well. I feel I've stretched myself a little thing these days but I love all of these things so it's very hard to leave one out! I also do a bit of fold forming and lots of forging, making many of my own components this way. In the very near future I will also be making
PMC
components to sell to people to use in creating their own jewelry pieces.
Did you have a specific inspiration when organizing your space?
Organizing, what's that? This is still one of the most difficult things for me, usually I have piles and piles of stuff I'm constantly digging through to find the things I want. Every few months I say NO MORE and I attempt to clean and organize, but it never lasts for long. Forever a work in progress.

What's your biggest issue with storage/organization/design?



Definitely keeping track of my beads, I have an amazing printer cabinet that keeps all my beads. But I still have trouble keeping track of what is what and where I got it from. I like to share where bits and pieces come from when I list a finished piece so people can purchase themselves if they want to.

Is there something that you're constantly having to work on overcoming and what have you done/do you do to rectify this situation?
Do you use/prefer/need artificial light or natural light?

Would prefer natural light, but that's often difficult to come by in the Pacific Northwest. When I have the opportunity and enough sunlight I load up jewelry and photo props and head out to my green house which is by far the best place for me to take pictures.

As far as work space, it nearly always ends up being artificial light, just no way around that.

How has your creative space evolved over time?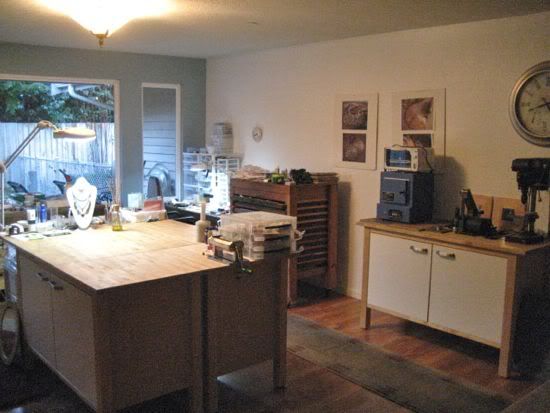 It began on the dining room table, everything was swept in to a single plastic storage bin when necessary. Then I moved in to a spare bedroom and had a desk and a little bit of extra work space. When we purchased our new home I got an entire bedroom to my own, quickly outgrew that and moved in to what was our unused living room which I adore. Still very messy no matter how much space I have and I also spill out in to other parts of the house at times. It's pretty crazy!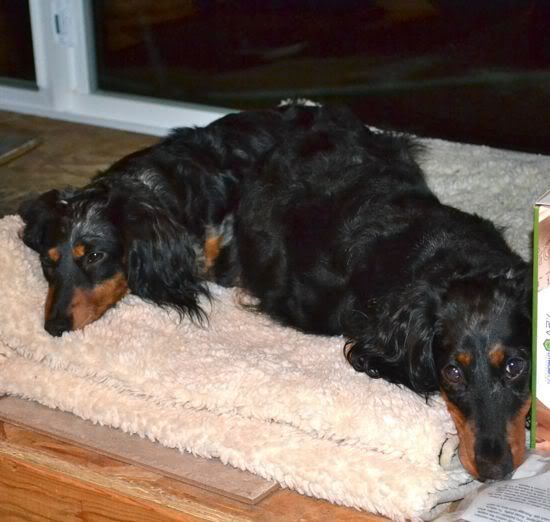 (My Miniature Long Haired Dachshunds Ginger and Shasta in one of their favorite spots to hang out when I'm in my studio, on the shelf under my soldering table. They have a cozy blanket and a big window to look out, when they are not sleeping that is.)
How has having your own creative space affected your work?

I never could have added so many different modalities to my work without more space. I know people out there who do it but I honestly think it would have crippled me creatively.
*****


Thanks so much for this visit, Kristi!
Be sure to head over to Kristi's
blog
,
Artfire
, and
Etsy
shop to see her work.
*****


Interested in having your studio featured in Featuring Studio Spaces?
Just click the little
contact button
in the upper right column and we'll set it up!
Have a terrific day.