It's time for
Featuring Studio Spaces
! Each week we will feature an artist and his or her
creative space
. We'll gather lots of juicy tidbits ranging from
inspiration
to
design and functionality.
Today we're thrilled to talk with torch and bead lady extraordinaire,
Barbara Lewis
of
Painting with Fire Artwear
. At the end of the interview be sure to visit Barbara's
website
and
blog
.
*****


Tell us a little bit about what you do in the studio.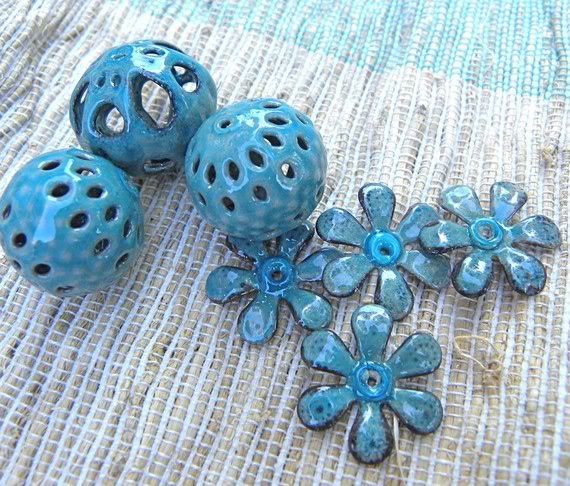 Painting with Fire Artwear functions as a bead making studio; a supply store for Thompson Enamels, enameling equipment, and other fun stuff; and a jewelry-making studio for me.
Did you have a specific inspiration when organizing your space?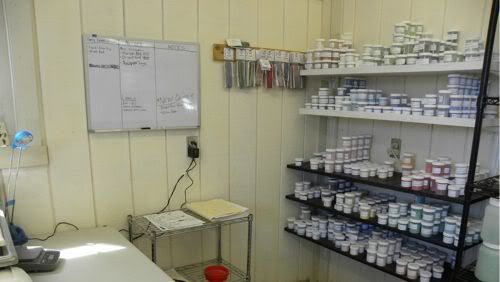 [ enamel weighing and labeling ]


I need to effectively use as many square feet in the studio as possible. I love to look through the pages of "Where Women Create" and am more than a little envious of most of the studios that grace their pages, but PWF has a more utilitarian look … for better or worse. My goal is, "A place for everything and everything in its place."

Name one or more things that especially work for you
.
[ studio enamels ]
What really works for us is to have different work stations dedicated to specific functions … like a place to weigh, label and store enamel; a shipping area; places to create torch-fired enamel beads; a soldering area; a place for metalworking; a place for wet work (working with patinas and liquid enamels); and another place for beading.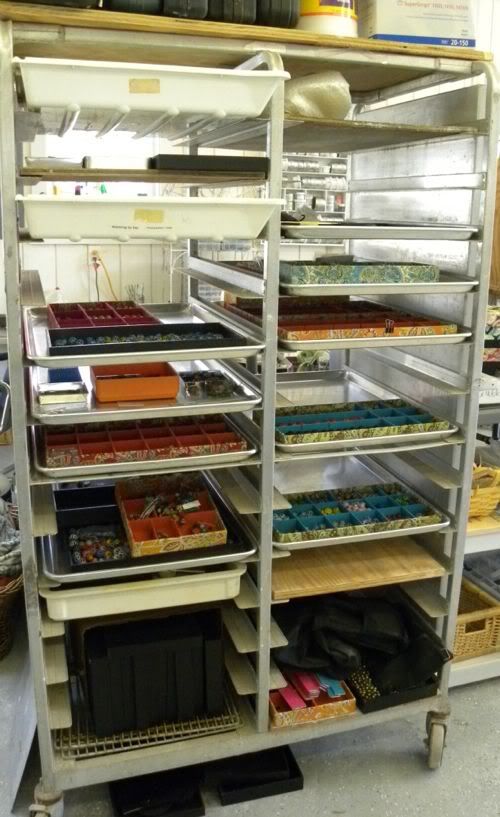 [ finished beads ]
What's your biggest issue with storage/organization/design?
I would love to have a display area so that we could invite customers to our studio, but it's not who we are … right now. When I'm in Maryland, I live in the country and the customers would be few and far between. When I'm in St. Petersburg, I live in the city but don't have nearly the room that I do in Maryland. Woe is me!

Level of important: design aesthetic or functionality?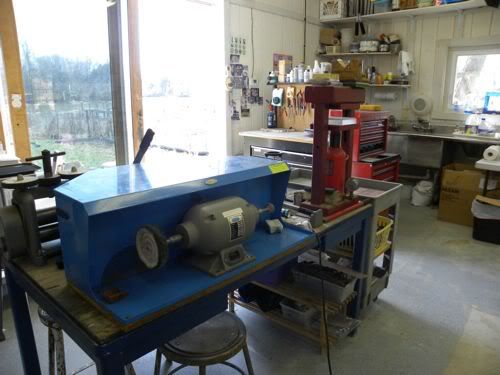 [ hydraulic press, rolling mill, polisher ]
We are definitely about functionality!
Is there something that you're constantly having to work on overcoming and what have you done/do you do to rectify this situation?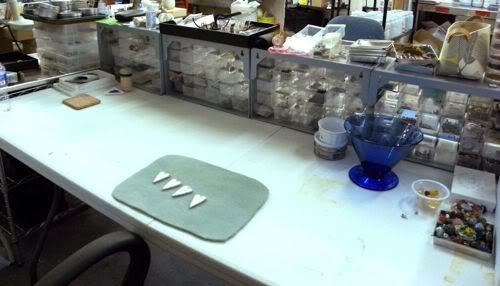 [ beading area ]
The thing I'm constantly having to overcome is me! I have a terrible case of ADD when I get into the studio. I start a project, then I see something over there that looks enticing, then something else catches my eye over there … before long I have stuff out all over the place. Someone, please put me in a straightjacket!


Do you use/prefer/need artificial or natural light?


[ packaging & shipping area ]
I love natural light that is assisted by task lighting.
Interesting tidbits about your studio.


Our primary torch-firing station has an outstanding ventilation hood, plus the triple tub sink is a holdover from my pottery days. Several stainless steel tables were practically given to me and are sturdy and easy to clean.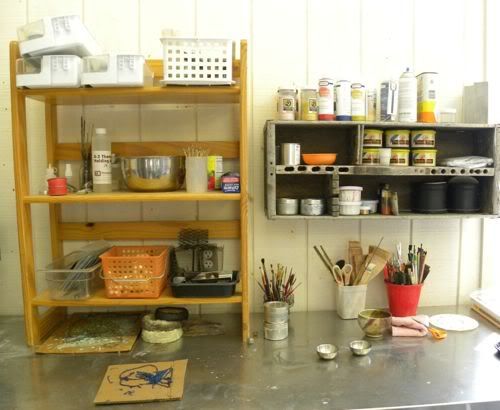 [ wet work area ]



How has having your own creative space affected your work?
Our studio is housed in a detached over-sized garage. The size of the space, about 650 sq. ft., has allowed for diversification and helpers in the studio. Last year we splurged and got air conditioning. Wow … did that make a difference in our outlook and cordiality!

*****
Thank you Barbara!
Be sure to visit Barbara's website,
Painting with Fire Artwear
and prepare to fall in love.
********
Interested in having your studio featured in Featuring Studio Spaces?
Just click the little
contact button
in the upper right column and we'll set it up!