It's time for
Featuring Studio Spaces
! Each week we will feature an artist and his or her
creative space
. We'll gather lots of juicy tidbits ranging from
inspiration
to
design and functionality.
Debi from Do-Rah! Designs
. Debi creates beautiful handbags and accessories. Her studio has just recently been redesigned and is full of great storage and creative surfaces.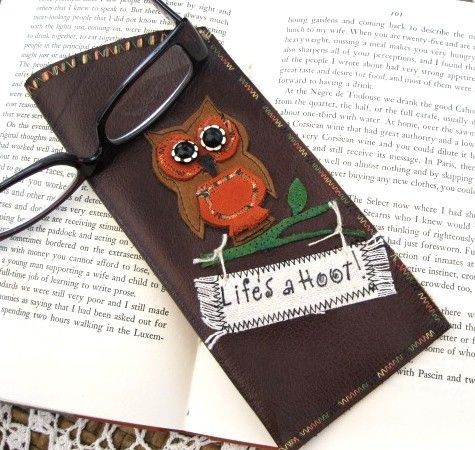 Tell us a little about the work you do in the studio.
I have been sewing for a long time. About 3 years ago, I was working at at a furniture store and discovered that they threw away the upholstery fabric samples. So I started bringing them home, making handbags for friends and family. Long story short, started Do-Rah! designs. I also do card making and enjoy working with paper.

Did you have a specific inspiration when organizing your space?


Over the years, my collections have been growing quickly, the BEST inspiration for organizing any studio!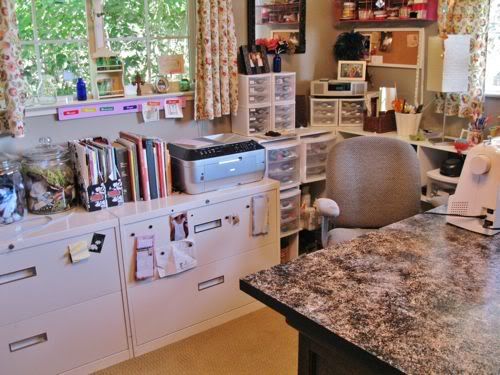 While everyone would love to have an unlimited budget to decorate, I have been trying to use the things I already own. Besides the good old plastic drawers, I have been fortunate to acquire two lateral file cabinets that work as a great surface space and have a ton of storage!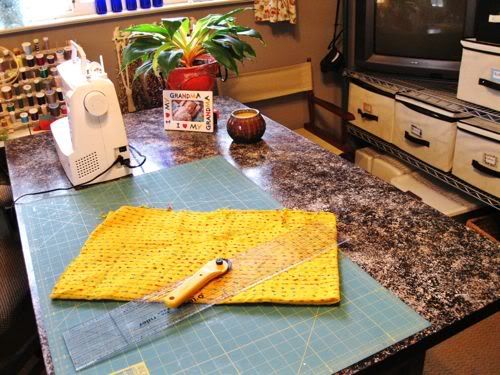 I also love my work surface, made from an old door set on top of a console that we got at a deep discount. My metro shelves FINALLY came out pf the closet, when I was able to get shorter legs for them and find the perfect storage boxes.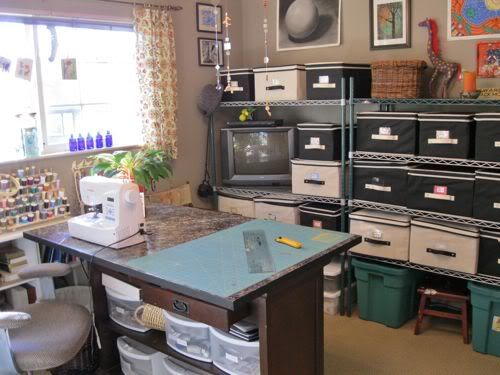 These boxes not only look neat, but keep my fabric organized according to color or type. I really need the balance of design and function, to be inspired and to be able to stay in the room for any amount of time. And I hate to admit it, but, I need a TV!!! Just could not work without it.!!
Is there something that you're constantly having to work on overcoming and what have you done/do you do to rectify this situation?

I tend to work on 2 or 3 projects at once, so overcoming the constant mess will most likely always be a big problem. That is why I like having a large workspace. I literally push everything off to one side when I need to use the cutting board! I can go for about a week like that before I have to put everything away, vacuum, dust, etc. I definitely need "neat and clean" to get the creative juices flowing again.
This was formally my daughter's room. I always loved the natural light and the view of the trees out the windows. I never had a doubt which spare room I was going to snag when I turned into an empty-nester!. Having a room with a door that closes (very important!) is such a blessing to creativity for me. I have creative bursts a very inopportune times, like most of us, and it has made a huge difference in production.

Thank you so much for letting me share my studio on your wonderful Blog. Hopefully it will inspire your readers to be creative and use things that they might not have thought while creating their studio!

*****
*****


Interested in having your studio featured in Featuring Studio Spaces?
Just click the little
contact button
in the upper right column and we'll set it up!