It's time for
Featuring Studio Spaces
! Each week we will feature an artist and his or her
creative space
. We'll gather lots of juicy tidbits ranging from
inspiration
to
design and functionality.
This week's featured artist is
Jenn Duval of Clay Chic
. Jenn creates mouth watering jewelry using sterling silver. The spinner ring shown below is just one of my favorites. After the interview's over, be sure to visit Jenn's
Etsy shop
and
blog
to check out all of this talented artists offerings.
Tell us a little about the work you do in the studio.
I am a self taught jewelry artist. I originally started out working in polymer clay (hence the name ClayChic (definitely think long and hard before choosing a business name, I am stuck with a name that does not apply to my work now). I started making my own bezels for my polymer clay and fell in love with working with silver and other metals and so here I am designing and selling my own jewelry in my
Etsy shop
.
Did you have a specific inspiration when organizing your space?
My inspiration was organization, I like to have a very organized space and so I tried to find units and things that would help with that.
Name one (or more) things that work especially well for you?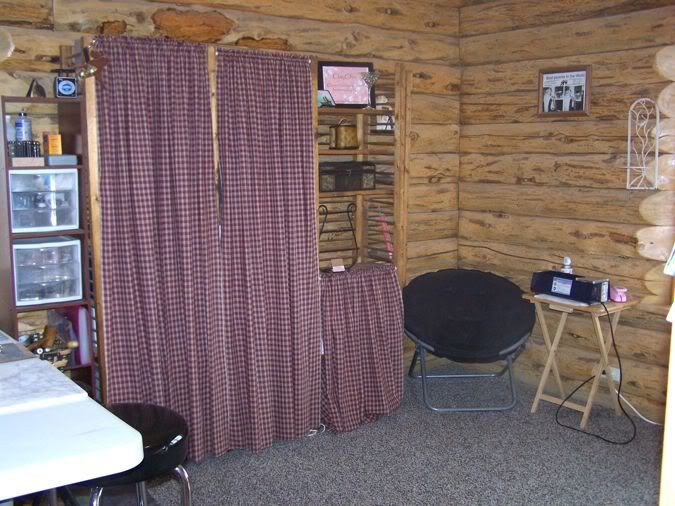 I really love the shelving unit I have, I purchased it from a woman whose store was going out of business. It has adjustable shelves and I made the curtains so that all my stuff can be neatly hidden behind them. I also love my peg board and my plastic drawer units. Everything has to have it's place, I am a bit of a neat freak.
Level of importance: design aesthetic or functionality?

Definitely functionality, see question #3

Is there something that you're constantly having to work on overcoming and what have you done/do you do to rectify this situation?
For me it is staying on task, I tend to start one project or order and then jump to working on another jewelry design I've been thinking of. So I have set a a type of reward system for myself. Once I finish one order I take a little time for myself to just play, this has helped to keep me on track.
Do you use/prefer/need artificial light or natural light?
I prefer both and use both for creating my jewelry and photographing it.
Show me interesting tidbits about your studio.
The first interesting tidbit is the great staircase up to my studio and then my two heeler dogs who love to come and keep me company.
How has having your own creative space affected your work?
It is really nice to have my own creative space that is in a room that I can go to and shut the door so that I do not bother my family and they don't bother me :o)


Unless of course my teenagers are hungry or have dirty clothes to be washed.

Thanks so much, Jenn. LOVE your space and your log cabin!

*****


Interested in having your studio featured in Featuring Studio Spaces?
Just click the little
contact button
in the upper right column and we'll set it up!
*****
P.S.
I got
my very own feature
today with
Megan over at Studio MME
!
Hop over and check it out.
Thanks for visiting and have a terrific day.