It's time for
Featuring Studio Spaces
! Each week we will feature an artist and his or her
creative space
. We'll gather lots of juicy tidbits ranging from
inspiration
to
design and functionality.
I think you'll enjoy this week's visit with jewelry artist,
Lori Anderson
from
Lori Anderson Designs
. Her studio is full of color and inspiration. Enjoy!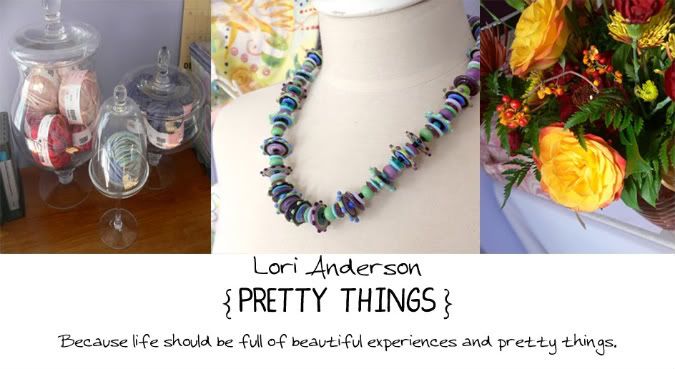 Tell us a little about the work you do in the studio.

I'm a full-time jewelry designer, so once I drop off my son at school, I start the day full-force, being in the office, answering emails and fulfilling orders. I then move to my work table, my huge kitchen table. I love working in the common area of the house because I can be around my family when they're home, even if it does get distracting at times! I have a huge bead cabinet behind my work table, so the beads are never far from me. And when it's time to torch beads, I have a workshop in the backyard at the ready.
Did you have a specific inspiration when organizing your space?
My office is full of vintage finds. Old typewriters, vintage cameras, tins, and random bits and bobs are mixed with the colorful and quirky modern things I collect from fellow artists. I loooooove color. In my lampwork studio, the walls are alternately painted purple and pink, and the ceiling has a bit of light green on it. I even have a fake tree in the studio!
Regardless of where I work, there has to be pretty things around me.

\
Name one (or more) things that work especially well for you?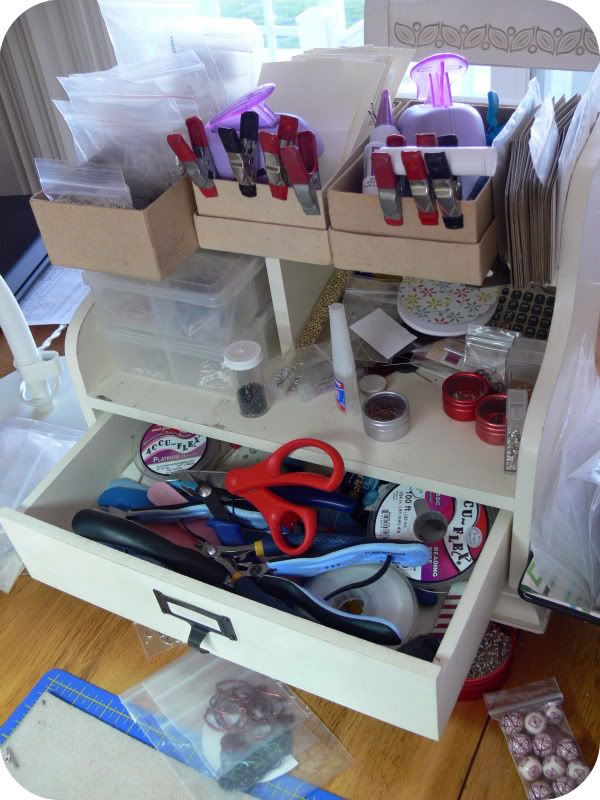 At my work table, I have a wooden desk organizer that is my most important organization tool. The bottom drawer holds my most-used tools. The middle slots hold ear wire boxes and a box of simple silver, along with things like scraps of paper, a calculator, rulers, and the like. And the top shelf holds earring cards and a box full of headpins. I'm lost without it.
What's your biggest issue with storage/organization/design?
Working out of three spaces makes it easy to start dragging things all over the house and overtaking EVERYTHING. Beads find their way to the table and start piling up. Papers start becoming stacks upon stacks upon stacks on my desk. My photo prop table begins to look like a museum's back room, full of stuff they don't know how to exhibit properly. It can become overwhelming to look at my house! The only space that is always neat is the lampwork studio, and that's because I'm afraid of burning it down.
Level of importance: design aesthetic or functionality?

Aesthetic. Absolutely. However, If you can't wear it, no one will buy it, so…. I suppose it's both. But the word "functionality" makes me think of an institutional wall clock. Or a bowl of oatmeal. It'll stick to my ribs, but it's not pleasant going down.
Is there something that you're constantly having to work on overcoming and what have you done/do you do to rectify this situation?

The mess is just always there, and if it gets to be too much, I just put all the beads away and start over – that's not too big a deal for me. The biggest thing I have to overcome, still, to this day, is having faith that what I make is GOOD enough. I'm constantly hoping for that "ah ha!" moment when something truly awesome will make its way into my head.
Do you use/prefer/need artificial light or natural light?
It used not to matter, but now that I have chronic (read, daily) headaches that often turn into migraines, natural light is best. We rarely use an overhead light in the house. The daylight I use when working is also diffused a bit by the roof from our porch, so even on the sunniest days, I don't get blinded. I also have a Daylight task light that I keep at an angle slightly away from my eyes so the light helps but doesn't trigger a migraine.
Show me interesting tidbits about your studio.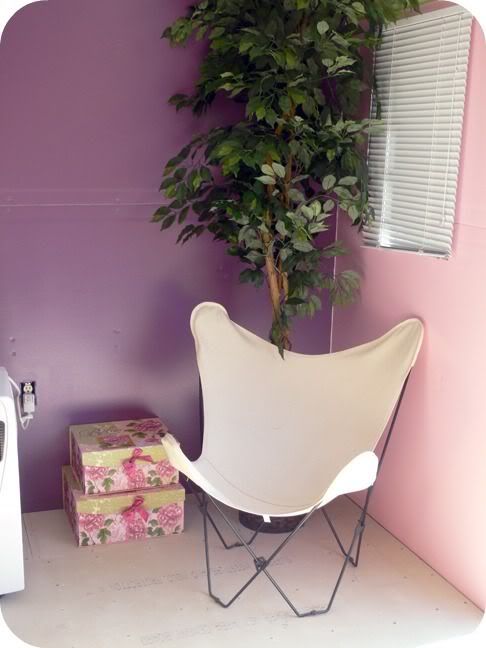 How has your creative space evolved over time?

I used to be able to store my beads in one plastic Tote container, shove it in a corner, and be done with it. Now, I take up the kitchen (with a HUGE bead cabinet), an entire room for an office, and an outside building. It's evolved into sheer workspace into a beautiful area that is full of collections and beautiful things to look at and get inspired by. I just wish I had a maid!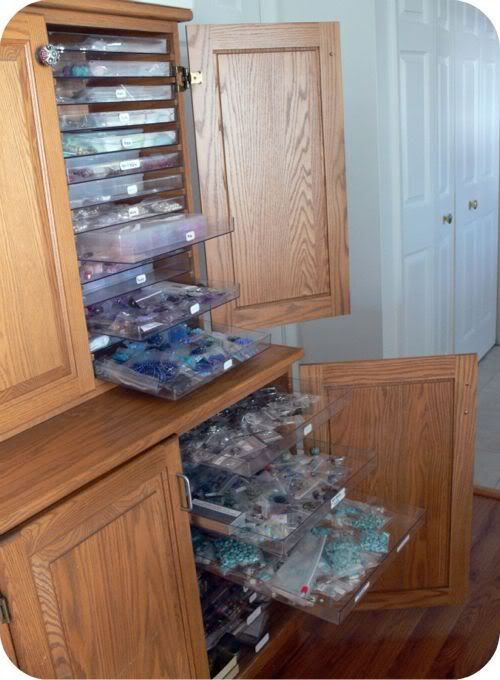 How has having your own creative space affected your work?

I used to work for a high-tech in an austere office in your typical DC metropolitan-area office. I tried to make it mine in as professional a way as I could, but you just can't do that very easily – anything other than flowers on my desk and a cool calendar was about as far as I could go. Even a quirky screen saver was frowned upon.
*****


Interested in having your studio featured in Featuring Studio Spaces?
Just click the little
contact button
in the upper right column and we'll set it up!